HIGHLIGHTS
Updates . Photos . Programmes

"CORPORATE LEARNING CENTRE - 'NALANDA' IS NOW ISO 9001:2008 CERTIFIED"
Congratulations to every United Indian!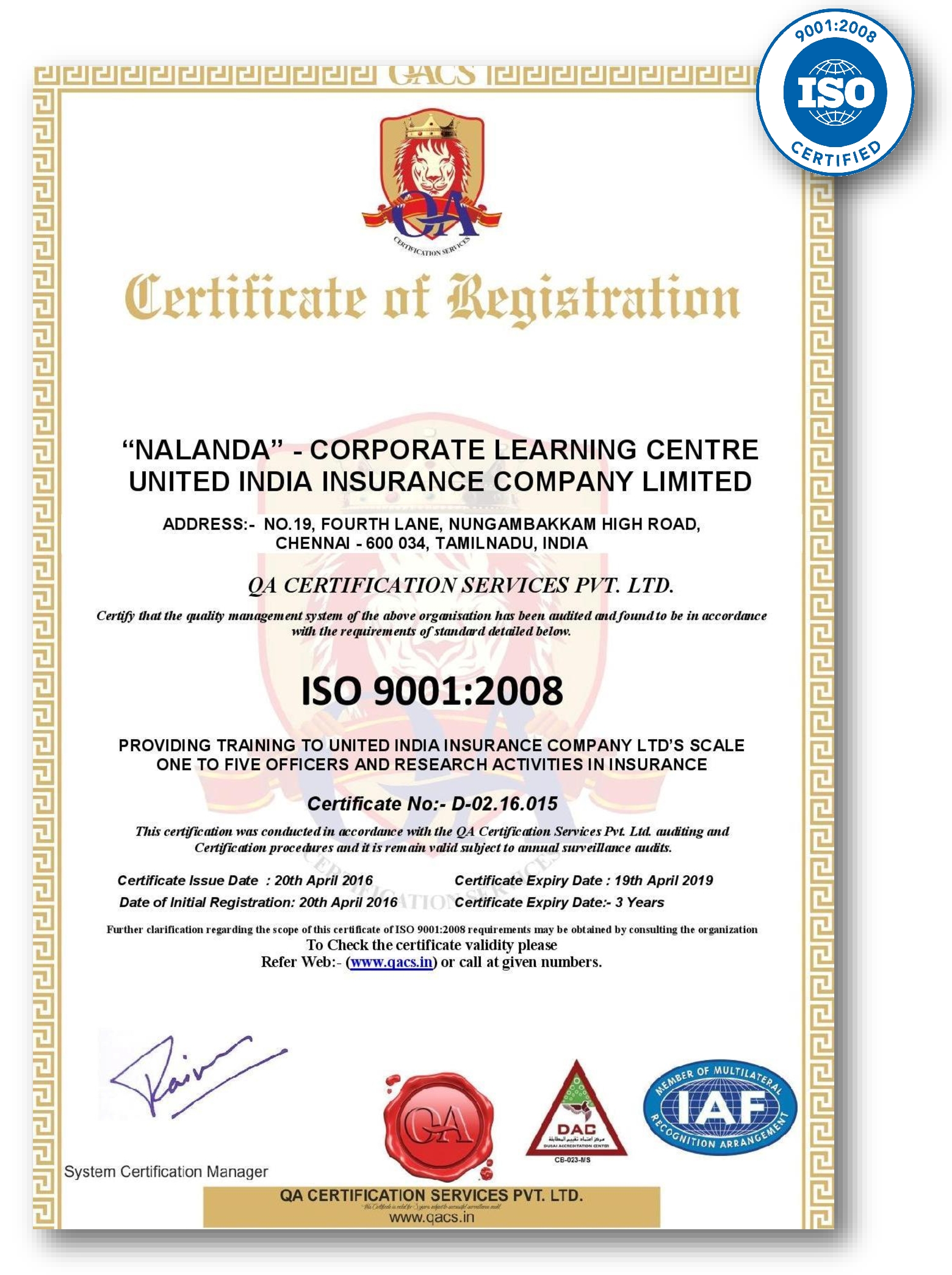 LETTER FROM THE PRINCIPAL'S DESK
Dear All

Re: Our Corporate Learning Centre gets ISO 9001:2008 recognition.

We, the team of NALANDA share our pleasure that Our Corporate Learning Centre got ISO 9001:2008 recognition, with a road map to ISO 9001:2015.

While we thank Top Management, our CMD and GM (P) for their motivation, support and trust, we bring here to your attention the transformation that revolved to give a face lift to our CLC to get this prestigious recognition, after three stage audits.

• Activities involving Academics, Administration, Catering & Maintenance all have been structured and log recorded. Video surveillance camera installed.
• Created an exclusive website (www.uinalanda.com) and carrying on pan India support & online interactions to enrich every employee.
• A mini beautiful Art Gallery is created in the ground floor.
• All the class rooms have been updated with new interior and Digital Displays, Digital Library and online feedback system introduced.
• Prestige hall has been modernized as multipurpose hall – Mini Class Room/ Conference Room/ VIP Lunch Hall.
• Auditorium has been made the best, creating better stage, wide theater screen and a cozy atmosphere.
• Complete rejuvenation of our exterior garden with terracotta dolls, KOI fish pond, falls, fountain and serenity of love birds' sound.
• Quite a lot of saving against expenses was made like, reducing diesel consumption, controlling water, electrical usage, creating water storage, wastage of stationery etc.
• Reception area given an ambiance of an academic institution as against a hotel atmosphere.
• Dining hall was modernized with new Air Conditioners, Branemary, dining chairs and VIP table.
• Renovation is on - Complete restoration of exterior and painting of the whole building. Trainees Rooms & Common Wash Rooms are being modernized.

We have brought many publications, some of them to be noted:

• Customer Manual - Complete Manual for a Rural to Petrochemical Client
• Risk Register for LC
• Market Study- Indian Health insurance products
• Market Study- Indian Motor insurance products
• Training and Development Policy-Draft
• FAQ on General Insurance Products
• Hand book for Direct Recruits
• Resource Media for UI Faculty.
• Digital Module - Offline test for Pre Promotional Exam
• UNIGEMS Digital Disk - Career Companion for every United Indian
• Compilations- Insurance Glossary, Marine Glossary, IRDA journals, Ombudsman Cases
• COURSEWARE for various training programs

We have ensured the learning process to be a truly stimulating and enjoyable experience.

With all your good wishes!


Dr. Mu. DHANASEKARAN
PRINICIPAL

"INDUCTION TRAINING FOR AOs PROMOTED FROM CLASS III - BATCH I"
PROGRAMME DURATION: 04-04-2016 to 15-04-2016
GROUP PHOTO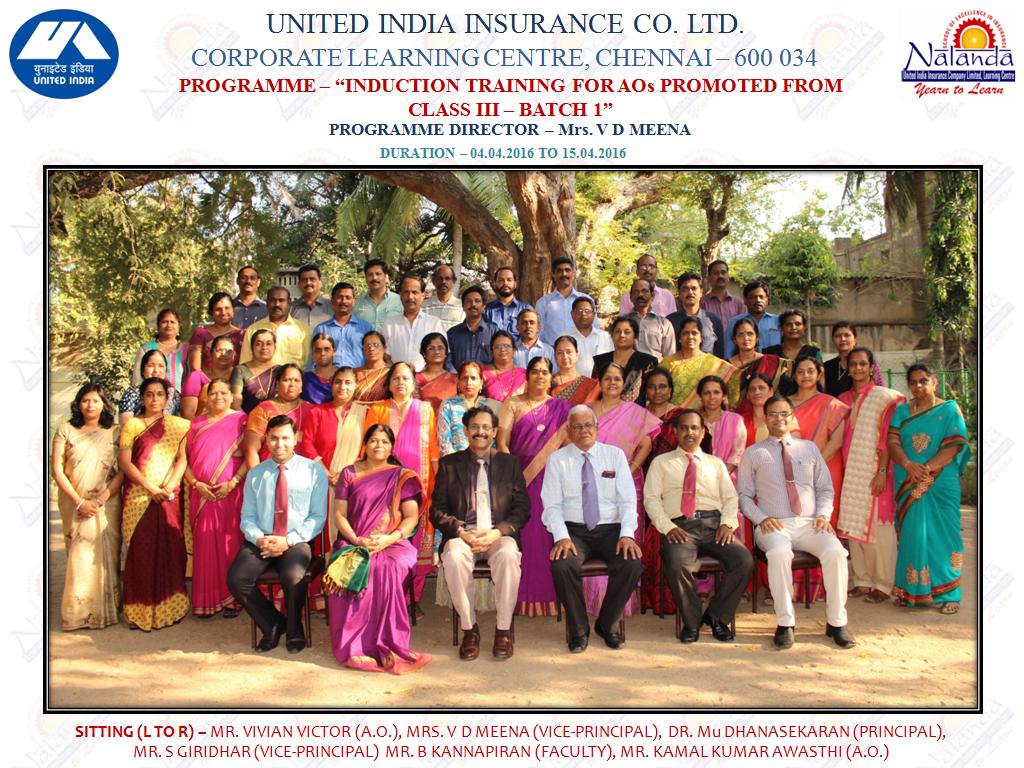 Click here to download the Picture!

"PROGRAMME FOR RETIRING OFFICERS"
PROGRAMME DURATION: 23-03-2016 to 25-03-2016
GROUP PHOTO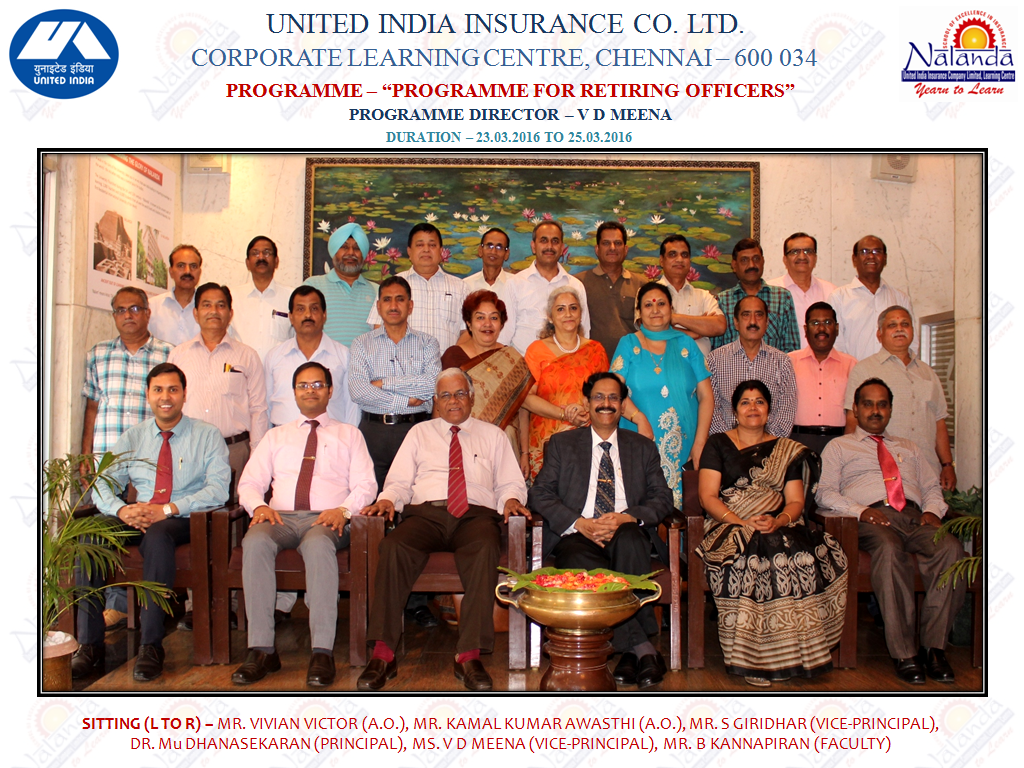 Click here to Download the photograph!

"WOMEN EXECUTIVE PROGRAMME - INTERNAL COMPLAINTS COMMITTEE"
PROGRAMME DURATION: 02-03-2016 to 04-03-2016
GROUP PHOTO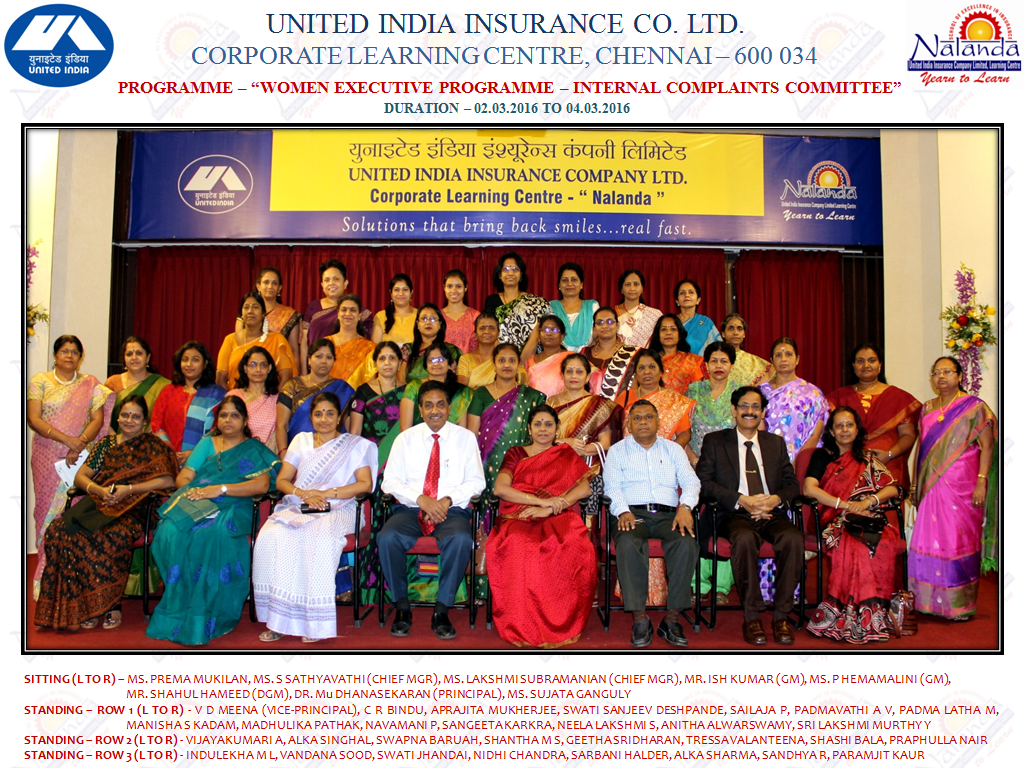 Click here to Download the photograph!

[1]
«
24
|
25
|
26
|
27
|
28
|
29
|
30
|
31
|
32
»
[47]